FAQs - Imagine

A Cayman Islands digital ID and its underlying suite of systems and technologies will launch the Cayman Islands into the 21st Century.

This Government aims to provide an enabling innovation that will truly modernise governance, and transform how Cayman Islands residents transact with Government and businesses, and thereby enhance the digital infrastructure, service delivery and overall economic competitiveness of the country.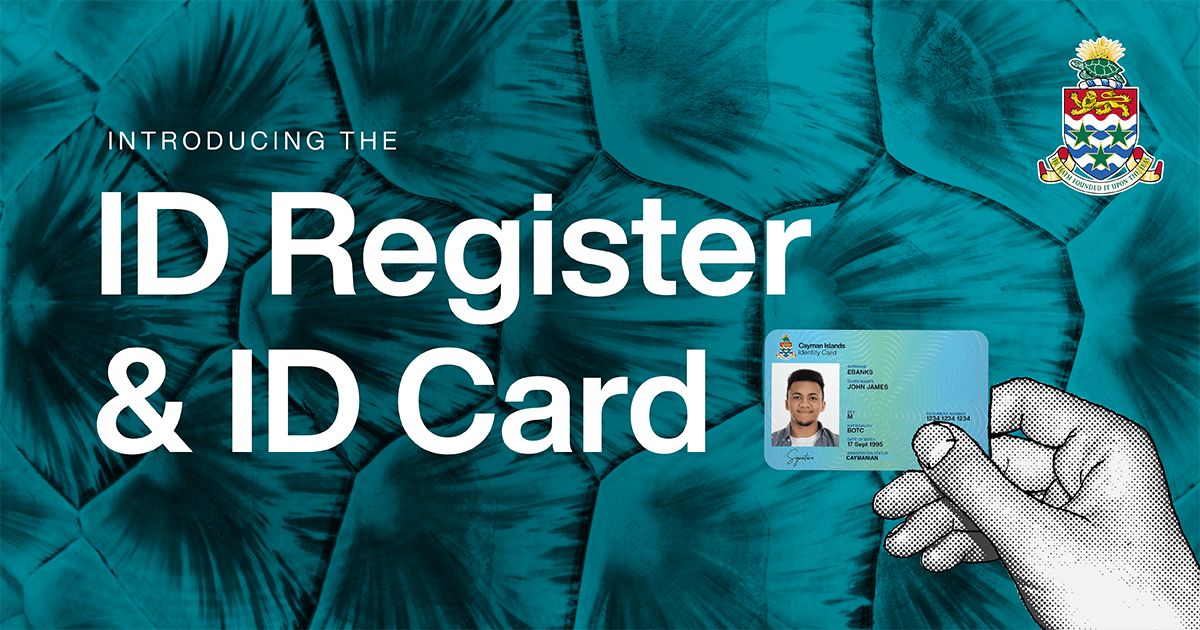 Why is the Cayman Islands Government introducing the Imagine eCayman programme?

The digital ID Program will enable the Cayman Islands to build a modern digital society, with best-in-class Government and private sector services that are streamlined, and built on the principles of data protection and security.
What is the Identification Register?

The Identification Register will be an official database of all persons with the right to reside in the Cayman Islands, containing basic identity information that government already holds on its citizens, along with a unique identification code.
What information is in the Register?

Only minimal data required to identify each person across Government systems will be stored in the Register. This Information will be grouped into two categories: "identity facts" - the core set of information required to identify an individual, and "related facts" – supplementary information that may be added to an individual's entry on the Register.
• First, middle and surname
• Date of birth
• Nationality
• Sex
• Immigration status
• Identification code


• Place of birth
• Identification code of the person's parent or parents
• Delegated authority
• Height
• Eye colour
• Date of death
• Physical signature (signature mark)
• Photograph
• Principal contact information
• Emergency contact information
• Other residential addresses, if applicable
What is a unique identification code?

The unique identification code will be a unique and persistent, 9-to-12 digit numeric code that each person will receive as part of the program. This code is not intended to be a secret in the same vein as (for example) a US Social Security number and in a future state, citizens will share their unique code like a phone number.
Which entity will oversee the ID programme?

A new Government entity – the Office of the Registrar – will oversee the launch of the Imagine eCayman Program.
Do I need to do anything to get entered in the Identification Register?

All persons legally resident in the Cayman Islands will be included in the Identification Register.
Can I see my data in the Register?

Each person will be able to access, amend and/or share their own information in the Register through a convenient self-service portal called MY INFO.
Additionally, you will be able to see every instance in which a Register entry is accessed, because this is automatically logged and time-stamped (unless it is accessed as part of a criminal investigation).
Why is the Identification Register important?

The Identification Register will act as the core database through which both Government and private sector service providers can reliably identify individuals. This will give rise to significant increases in administrative efficiencies and e-services.

Additionally, through MY INFO, each person will benefit from the transparency of being able to see what data is being stored against their entry at any given time, and they will have the ability to access and share that information as needed.

Some information included in an individual's entry in the Register – particularly information that can change from time to time such as a physical address -- can be subject to "levels of assurance" which will allow public or private sector service providers to determine whether that particular piece of information is up-to-date and can be relied upon.

If we use address information as an example, the first time that address is entered into the Register by the individual it will be assigned a low assurance level because there is no way to confirm that the individual is living at that location. If the individual provides the Registrar with permission to verify their address with a utility company (to confirm that the account at that address is in the individual's name and is active), then the assurance level for that address in the Register can be increased to a high level of assurance in the Register.

An address with a high level of assurance could be used by private sector services to confirm address for KYC (know your customer) purposes which is a requirement for some private sector services like banking.
How does this initiative support data minimisation?

Government system owners and service providers will now be able to reliably and efficiently identify persons when providing services by accessing the Register to confirm specific identity information required for that particular service. Currently, confirmation of identity is done manually via reviewing birth certificates etc. which contain information in excess of what is needed for a particular service

e.g. If you open a bank account using a Cayman Islands birth certificate as proof of your date of birth, the bank will see the name of the physician/midwife that delivered you because that information is also included on your birth certificate. That information is not needed for the purpose of opening a bank account. A simple query of the Register will return your date of birth and ONLY your date of birth.
How will the ID register be populated?

The Identification Register will be populated using data already held in CIG systems. Upon the passing of supporting legislation, initial loading of the Identification Register will incorporate data from the WORC (Workforce Opportunities Residency Cayman) database.
Will I have to update the Registrar of changes to their information even when I move off Island?

Once a person no longer resides in the Cayman Islands they will not be required to update the Registrar.

The Register functions through the X-Road software-based interoperability solution. This software was developed by Estonia and is now managed by the Nordic Institute of Interoperability Solutions - which is internationally lauded for its efficiency and security, and is extensively used in Estonia and other jurisdictions.

All data exchanges conducted through the Register are encrypted both at rest and in motion.

The local installation of the X-Road system has been penetration tested and more tests will follow prior to go live.
What is the Identity Gap?

In the Cayman Islands today, there is a portion of society without any form of government accredited ID. Persons falling into this 'identity gap' cannot prove who they are when performing various functions.

Our younger people and our elderly fall into this category more often than other groups, and can be greatly disenfranchised when they struggle to identify themselves to receive important services, and to travel between Cayman Brac/Little Cayman and Grand Cayman.
What is the Cayman Islands Identification Card?

The Cayman Islands Identification Card is an official Government identification document for use within the Cayman Islands. It may be used to authenticate an individual's identity physically, through the basic personal details printed on the Card as well as digitally, through a scannable chip embedded within the Card.

The chip, which is protected by a PIN (4 to 16 digits), can be used to store additional facts about the holder and enables access to a person's unique entry in the Identification Register. It can also be used to digitally sign documents.
Is there a fee associated with the card?

The Card will be issued free of charge. Fees may be implemented to replace a lost, stolen or damaged Card.

Individuals will be able to apply for a Card online or in person at enrollment offices that will be setup once Card distribution begins in July 2023.

When applying, the individual can elect for their Card to be delilvered via mail or available for collection in person.
What are the benefits of the Card?

When using the digital features of the Card to link to the information in the Register, there is no longer a need for a person to prove their identity by using numerous different documents when they try to access Government or private sector services. This removes the need for time-consuming process of collecting, scanning, and submitting documents such as birth certificates and passports, a process which results in personal information being duplicated and stored across many public agencies and private sector businesses in potentially unsecure ways.

Without using the digital features, the Card in its physical form will function as an ID for people who do not have passports, driver's licenses, or other documents traditionally used for identification purposes.
What can we expect in the early days when the Cards are in use?

Proof of info printed on card
As a convenient, easy to carry proof of identity with an equal level of assurance to a government issued photo identification document such as a passport

In office use of machine readable digital identity
Reading information from the chip in the office environment in order to enable more efficient business processes

Digital Signature
Using digital signature
- Eliminates the need to print, sign and scan a document
- In-office digital signature with a PIN pad on in office PDF documents
- Digital signature on documents – PDF and MS Word
- Digital consent online

Single Sign On MyeGov
Single Sign On to government online services and websites using National ID card and pin
- The National ID will integrate with the Government e-services portal (aka My eGov portal), the person will be able to use their National ID card and pin to sign in to any govt website that is on the portal.

Sharing of Digital Identity
- Sharing of identity information via the QR code
- Control over which information is shared, by toggling fields
How does the QR code work?

The QR code on the back of the card will allow you to share information with service providers that is not printed on the card itself, like your address.

This is done easily by scanning your QR code using an app on a device or a scanner. You have control over what data you share via the QR code by going into your record and making the relevant fields viewable.

Once your QR code is scanned, you can go back into your record and make those fields unviewable again if you wish.
How does the Card's digital signature work?

Documents can be digitally signed with the digital features of the Card. This will allow you to sign documents via an app or by connecting a card reader to your PC or phone and using the signing tool in the relevant document reader.

To sign a user must enter the Card's PIN correctly prior to the signature being applied.

Card-based digital signatures are timestamped and legally valid in the Cayman Islands under the Electronic Transactions Act, 2003, and the signed document cannot be modified without invalidating the signature.
How does the Digital Signature save time?

Digital signatures significantly shorten the processing time by which physical documents are usually signed and verified when transacting business in Cayman. The current process that is used very often involves printing the document, physically signing it, scanning it to your email and then emailing it to the next person who will then repeat the same process.This can take over two minutes and creates paper waste.

Digitally signing a document with the Card only requires that a person opens the document on their device, signs it by app or card reader and emails it to the next person, a process which by comparison can take under a minute.
Will I be able to use the Card for election voting?

The Card will be an official Government ID and so may be used as identification for the purpose of voting.
Will the Register track the use of my card?

No. The Registrar will not track or log when you use your Card, nor is there a GPS in the Card.

The only parties that know that you are using your Card are you and the service provider with whom you choose to share your information.